As part of the promotion work for my books, I often do visits to schools, libraries and other venues. These can take different forms, but they normally fall into one of four categories; a group of standard sessions, a more in-depth workshop, a residency or taking part in a larger event as a guest speaker.
Standard Short Session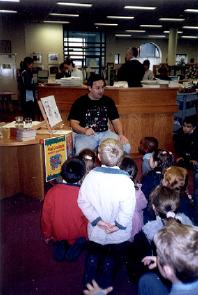 This is my standard format for a school or library visit, with each session lasting between forty-five minutes and an hour, depending on the age group. I would normally do two or three of these in a school day. For younger kids (up to seven or eight years old) I will often read one or two of my short books, using an easel and display pages so that the kids can see the illustrations. For practical reasons, I prefer to limit the numbers of children in any storytelling session to under sixty. And I find that the classroom environment is better than a large hall, for both atmosphere and interaction. I normally finish the session with a drawing.
For older kids (eight or nine up to and including secondary level), I can do a mix of things depending on their age, and reading level. The normal session would start with a talk about how to develop ideas, gathering the elements for a story and a bit about the use of language. I'd follow this with a reading from one of my longer stories, or the novels, and then do a drawing accompanied by a short Q&A session.
Two-Hour Workshop
This is a longer, more in-depth version of my short session, and I would normally only do one of these in a school day, as they are pretty demanding. The minimum age is eight or nine, depending on the ability of the kids, and I start with the talk I do for my hour-long session for older kids. I then go on to do some work on how to build characters, settings and the fundamentals of plotting. This session takes a minimum of an hour and a half, but two hours is better. Everything is done in the form of discussion, with the kids very involved throughout. I don't get them to write, because we would cover less ground and by keeping it as discussion, levels of literacy or emphasis on academic exercises are less of an issue. I finish this kind of session as I do the others, by doing a drawing while I take questions.
Residency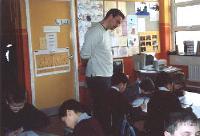 Where there is more time available, for instance if I'm doing an author/illustrator in residence, then there is a lot more I can do.
Over eight weeks, we covered the basics of composing, writing and illustrating stories, and by the end of it, had produced a collection of short stories, all fully illustrated, which were displayed in the Central Library in the Ilac Centre in Dublin. The lads created some excellent stories, and each pupil was also presented with a certificate.
Tips for a Visit
If this is your first time arranging a visit for a children's session, or if you're just wondering whether I have any bizarre requirements, funny habits or outrageous expectations, here are a few suggestions to help you get the most out of the visit.
Public Speaking/Talks
I am frequently asked to give talks, interviews or take part in panels speaking to larger audiences in universities, colleges, at conferences or in the media. These are much more open in format and the audience and situation tends to dictate the presentation and the subject matter covered.
To arrange a visit, residency, interview or talk please contact O'Brien Press.