A Guide to Oisín McGann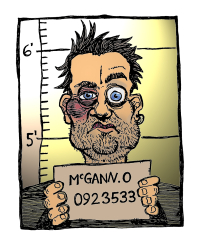 Born in Dublin in 1973, Oisín spent his childhood there and in Drogheda, County Louth. He started writing and illustrating stories in copybooks when he was about six or seven, setting himself on a path that would steer him well clear of ever obtaining of a proper job.
Despite his writing habit, he spent most of school convinced he was going to become a zoologist, an aspiration he lost after taking his first art exam in third year at St. Olivers Community College. Unable to conceive of a way to make a living from writing fiction after his Leaving Cert., he decided to fund his dreams of being an author by working as an illustrator. He signed up for a design and print foundation course in Ballyfermot Senior College, Dublin, in 1990 and then studied animation at Dun Laoghaire School of Art and Design.
In 1992 he dropped out of college to set himself up as a freelance illustrator/artist, serving the publishing and design industries. In 1997, he took up a position as Background Layout Designer for Fred Wolf films, working on the animated series of Zorro. After completing his contract, he decided to expand his horizons and left for London in February 1998 to seek his fortune. He found gainful employment as a security guard, watching over trains and then hospitals.
In January 1999, he joined the M&M Consultancy, a small advertising and design firm, as art director and soon expanded into copy writing. After three and a half years of working in advertising he became increasingly concerned for his immortal soul. He returned to Ireland in the summer of 2002 much as he had left – with no job, no home and some meagre savings. He set himself up as a freelance illustrator once more, before getting his first books published in 2003.
Oisín now works full-time as a writer and illustrator. He lives somewhere in the Irish countryside, where he won't be heard shouting at his computer.