Free to download!
The Vile Desire to Scream ~ A Wildenstern Story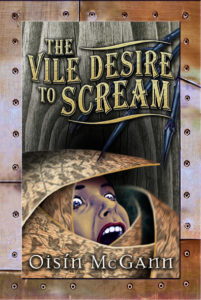 'If no relatives are involved,' said Nate, 'then somehow an enemy has infiltrated our home – one who is able to get past our guards, take Daisy without a struggle, and navigate the hazards of the house without detection. Which would make him a formidable opponent indeed, and an unknown quantity.

'For Daisy's sake, I hope that is not the case.'

'Bloody right,' Gerald sniffed. 'With enemies like that, who needs relatives, eh?'
This is a short book set in the world of the Wildensterns. It takes place between Ancient Appetites and The Wisdom of Dead Men, but it's a stand-alone story, so you don't need to have read either book to read this one. I'm releasing it free as part of the promotion for The Wisdom of Dead Men, and want it to be read by as many people as possible. So feel free to pass it on to your friends.
You can download the version of the story that best suits you (and whatever device you have for reading it) by clicking on the links below. If simply clicking does not work, trying right-clicking and selecting "Save Target As…" or "Save Link As…".
Using a computer (desktop, laptop or netbook)? You probably want the PDF version.
For the Kindle or iLiad, you'll be looking for the mobipocket version. You'll need to unzip the file once you have it saved to your computer.
For the Sony eReader, the iPad or other reading devices, you'll want the ePub version