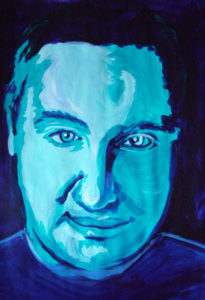 One of the most enjoyable parts of visiting schools is seeing the pupils take ideas and images from my books and do their own thing with them. I will often show up at a school to discover a whole wall covered in fantastic artwork, with young artists displaying their own interpretations of characters and events from my stories. That gives me a real buzz.
Due to the weather and Christmas, my events have been less frequent. Last week Sarah Webb and I were filmed by TV3 for Ireland AM in the Ark in Temple Bar. That was to promote our events there for the excellent Story Spark series. Our interviews were aired on Wednesday morning, along with some rowdy input from a bunch of spirited readers.
On Friday, I was in St Kevin's College in Crumlin, and was delighted to see the students there had plastered the walls with their own interpretations of 'The Goblin of Tara'. Something I hadn't come across before was a few different portraits of yours truly, based on one of my PR photos – including the one above, that was presented to me by a young man named Daniel.
It was very flattering and just a little weird to see these well painted, re-imagined versions of my face looking back at me.
I have seen reworkings of the cartoon I have on the biog page of my site before, but this was the first time I'd seen realistic images of my mug done by students. And really good ones at that. Definitely feels a bit weird. Well done to all the young artists who turned out such excellent work based on 'Goblin' too, it's always cool to see people engaging with the stories.
Another new experience occurred when I visited the Royal School in Dungannon, Co. Tyrone. I had a couple of really good sessions with the students there, but it was when I was shown one of the recent reading comprehension exam papers that I had my eyes opened. It was a CEA Exam, Higher Tier Paper, for the General Certificate of Secondary Education in Northern Ireland, and it was using an excerpt from 'Small-Minded Giants'. The exam had taken place in November, and this was the first time I'd heard about the excerpt being used.
I've since heard that the government (be it Irish, Northern Irish, or British) can use pieces from books in exams without advance permission from the author – in case we should go and tell everybody it was going to feature in the exam. And I can understand this. And I'm happy for my books to be used in schools – though I'm a little wary of being 'studied'.
In fact, it's flattering to have your writing held up as an example to young readers, and I'm grateful for being chosen.
What got me about this particular case was that the piece had been heavily edited, changing not just words and phrases, but taking out chunks of text and changing context. I'd have edited it myself for them, if they'd asked.
Apart from the issue of somebody messing with my writing, it's the conflict in principles I find odd. I'm all for using recognizable, mainstream fiction in an educational environment; it moves reading away from being just an academic exercise – vital, if you're going to engage reluctant readers. But what's the point, if you're then going to edit it to conform to educational conventions? Surely that's why you got away from academic texts in the first place?
If you want to involve mainstream writers in the educational system, come and ask us to get involved. We all want to see more young people engaging with books, and many of us are happy to help out the system. But changing our work without our permission? That's just rude.