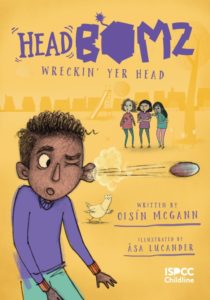 Wreckin' your head...
There's mad stuff squishing and squeezing out of kids' heads and nobody knows why...
It happens to Malachy first. He's new to the school, a quiet boy with a busy brain and too much to think about. He's all on his own when his headbomb strikes. Smart and popular, Eva is always at the centre of life in the school...until that totally gross incident in the yard. Then everything changes. She doesn't know it yet, but her countdown has already started. Harry is the main man in the yard and the captain of the football team. But there's so much he's hiding from the outside world. And if life is hard on him, he figures it should be hard on everyone else too. 'Cos you've gotta have a laugh, right?
Don't ignore it.
Don't hold it inside.
Don't face it alone.
Headbomz: Talking Makes Us Stronger is a campaign led by the ISPCC and Vodafone Ireland.