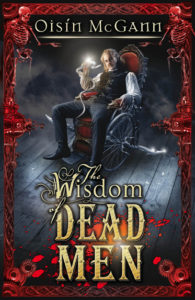 Release Date:
2008
Behind every great man is another man waiting to stab him in the back...
Britain and Ireland are under the rule of Queen Victoria. Huge business empires have begun taking the place of the once great British Empire. One of the most powerful of those Companies is controlled from Ireland by the Wildenstern family.
Nate Wildenstern has given up his dreams of a life of adventure and travel. Instead, he has devoted himself to keeping his disabled brother, Berto, safe from the enemies within their own family. After the death of their father, Berto has become the head of the Wildensterns, the Patriarch. With the help of his wife, Daisy, he wants the change the ruthless ways of the clan. For too long, they have made money out of other people's misfortune. But there are many among the Wildensterns who like things the way they are. They will use any means necessary to wrest control out of Berto's hands. And it is Nate's job to make sure Berto doesn't suffer the same fate as their father.
Meanwhile, the burnt bodies of women are being discovered in and around Dublin. Women who have died in mysterious circumstance – some are accused of witchcraft. A link is found to the Wildenstern family. Nate is joined by Daisy and his sister Tatiana, as he begins investigating the fates of these women. What they find leads them deep into a decades-old conspiracy involving the older generations of the family, a shadowy secret society and some of the most important figures in Ireland.
What is the family's connection with the women and their reputed healing powers? What is the true origin of the engimals, the bizarre machines with the minds of animals? And how can the existence of these machines shed a light on the savage nature of the Wildensterns themselves?
As the young Wildensterns search for answers, murderous plots are hatched against them...
The Wisdom of Dead Men is published by Mango Jeunesse in France as Feroces.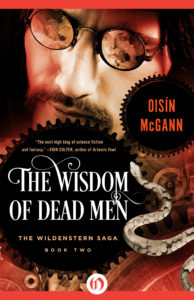 Cover of the Open Road electronic edition.