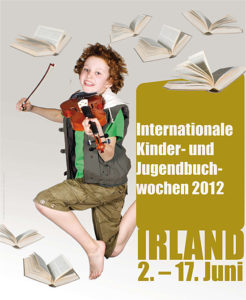 I'll make this quick – it's been a long day and the whole family's got to be up at 4am to catch a plane to Germany. And I'm already a bit knackered. I'm taking part in Irischen Kinder- und Jugendbuchwochen 2012 (don't ask me to pronounce that), a big children's book festival in Cologne.
It celebrates the writing of a different country every year, and this year it's Ireland's turn. It stretches over two weeks, this being the second one. Last week, Niamh Sharkey (our new Children's Laureate), PJ Lynch, Siobhan Parkinson, Malachy Doyle, Terry McDonagh and John Connolly flew the flag for Ireland.
On Monday, I join Marie-Louise Fitzpatrick, Judi Curtin, Sheena Wilkinson and John Boyne as we take Irish storytelling and illustration to the kids of Cologne.
I don't get asked to events abroad (or beyond the UK anyway) too often, so this is a bit of a treat, and Maedhbh and I decided to upgrade it to a family holiday.
Don't forget, the deadline for entries for the 'Merciless Reason' competition is the end of next week! Thanks to all those who've entered already, and for anybody else who's planning to take part – time's almost up!