Children's Book Festival – in terms of events, it's the busiest time in the year for most children's book authors (and to a lesser extent, illustrators) in Ireland. Officially, it runs from the beginning to the end of October, although it tends to bleed into September and November too. Libraries, schools and bookshops all over the country will be running all kinds of events to celebrate children's books. There are also bigger gigs, staged in theatres, run by the libraries or by Children's Books Ireland. CBI produce Bookfest, collating reviews on the latest books, as well as the posters and other marketing material. They also act as hub for the festival, helping connect up the country and make this a national thing.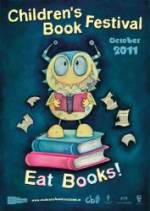 For any writer or illustrator who does talks, workshops or shows, this is the time everybody wants you to come and visit. World Book Day in March is the next busiest part of the year, but it's just not the same as facing into the marathon month that is CBF.
I've had a few events since the beginning of September, but in October, it's going to be a bit mental. I can start getting inquiries for CBF as early as March or April – sometimes earlier.
I normally need a few sessions to get me warmed up after the summer break. So far I've done the Monster Book Lunch in Dun Laoghaire for the Mountains to Sea Festival, I've been to Bush Post Primary near Dundalk and Skerries Educate Together. Yesterday I gave a talk to student teachers in Froebel College in Blackrock. All four of these were different types of events, so I should have well and truly shaken the rust off by the time I kick off CBF with two days in libraries in County Clare next week.
Over the next month, I'll also be travelling to Tipperary, Cavan, Kildare, Monaghan, Kerry and Leitrim.
I don't get much writing or illustrating done in October.
I'm grateful that the invitations are still coming in, because libraries and schools are having a really tough time of it. But it's a testament to the importance given to children's books that in many counties, they're making a real effort to keep their part of the festival running even though they've got much less money to do it with.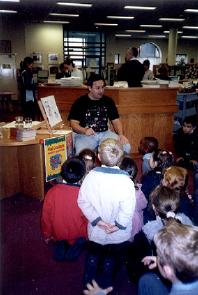 So now I'm making sure I've sharpened my pencils, I've got my drawing materials, my easel and my books packed in my sessions case. I've a few new t-shirts and  some new notebook-enabled combats in the wardrobe. The roadmaps sit ready in the car – which stands cleaned out and scrubbed up, as it's going to be my mobile command centre for much of the next month. I keep promising myself I'll learn some voice exercises to keep my throat in order through the month – which I have yet again failed to do.
I'm taking on a few different things this time round too, so I've some more prep work to do yet: some comics workshops for primary school kids in Meath; 'The Ideas Shop' theatre show with Sarah Webb and Judi Curtin in Bray and Navan; a workshop on plot and structure, in the beginning of November, at a seminar run in Swords by the Society of Children's Book Writers and Illustrators. I find that, most of the time, I have to think just few days ahead at any one time. I have to deal with October in manageable chunks.
I remember when I first got published, and I had visions of me sitting in quiet contemplation all day, writing and drawing and painting. Happily shutting the world out so I could produce my masterpieces. Since then, I've seen more of Ireland, and the UK, then I'd ever seen before. It's cool, and exhausting, and stimulating, and bewildering, and it flattens you, but lifts you onto your toes again. And it's all to get kids to read books. My books, obviously, but any books too. To get them to look into other people's heads and find all the brilliant stuff that lies within. And really, that's what it's about.
And maybe out there, just every now and again, some kid will see what I and others do and will say to themselves in that quite, resolved, determined way: 'I'm going to do that too, some day.' And that would be pretty cool too.