For the sake of my sanity, I recently carried out a purge of stuff from my office. I find it very hard to think clearly with too much unused or unnecessary stuff lying around, but until we can convert the garage into my long-dreamed-of studio, I'm in a fairly small room in the house.
I also prefer to work standing up most of the time, and have two standing-height desks – one for the computer, and one for the drawing board. I've had the computer on a normal desk because this room was supposed to be a temporary measure . . . that's now been in place for nearly two years.
In the end, I went ahead and put the other standing desk in. It feels much better already, I like standing up working – particularly writing or researching – because this sit-down job will eventually wreck your back and your circulation and profoundly affect the size of your arse. I also like to pace while I think.
I made both these desks myself; they're each about 120cm high (the height of my elbows when I'm standing) and 2 metres wide. The materials for both cost me less than a hundred quid.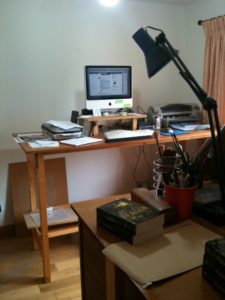 Eventually, I'll have fancier versions in hardwood with some nice drawers, but these do the job just fine.
As for the clutter, I normally do a purge on a fairly regular basis, but I left it way too long this time. As a result, the room had suffered a near-disastrous build-up of crap. Want examples? What follows is a list of Shit that Doesn't Have to Be in My Office:
Large Peter Pan pirate ship. Black & Decker hedge trimmer. 20-metre extension cable. Exercise mat. A packed up co-sleeper (small baby's cot to go alongside a bed – recently returned by Maedhbh's sister). A box of toys, containing a large plastic dinosaur, a large Buzz Lightyear and numerous other items. Walking boots (currently used for working in the garden). Small suitcase. Ratchet and socket set. Curtain rail (was still in packaging – I've now put it up so I have curtains too!). One dumbbell (currently unused – the other one is in the garage). My old Mac. A piggy bank in the shape of a running shoe (empty). One pane of broken glass from a picture frame. The picture that's supposed to be in that frame. One shoe rack (empty). Two pairs of shoes (not on rack). One unused computer monitor. An empty flowerpot. A pack of five fat-balls for feeding birds. Three boxes of comics. Box of loose screws. Box of loose keys. Pot of enamel paint. Pot of wood filler. Box containing two stress balls (not used enough). Cork noticeboard. Two boxes of my books ('The Wisdom of Dead Men' and 'Merciless Reason'). The fittings for a cot (the cot is in the garage). Manuals for the lawnmower. Basket of Electronics-Stuff-That-I'll-Probably-Never-Use-Again. Four cacti that refuse to die, no matter how much I neglect them. Small, attractive empty cedarwood box, the purpose of which is long forgotten. And finally, a four-foot-long Tunisian spear.
I can now get from the door to my desks without weaving around or stepping over anything. What bliss!