Congratulations to Niamh Sharkey, on becoming our new Children's Laureate. The announcement was made by President Michael D Higgins at a ceremony in the headquarters of the Arts Council this morning.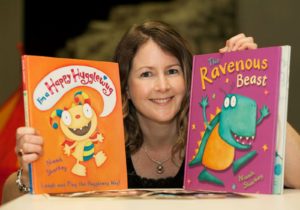 To my great disappointment, I couldn't attend because I did my back in over the weekend, and am currently walking around like some lop-sided zombie, but I wish Niamh lots of success in the role. She will be a great ambassador for children's books, while having a very different approach to Siobhan Parkinson, our first Laureate.
Niamh is the author and illustrator of numerous beautiful picture books, including 'The Ravenous Beast', 'Santasaurus' and 'I'm a Happy Hugglewug'.
The Hugglewugs are soon to star in their own new animated series, produced by Brown Bag Films and broadcasted worldwide on the Disney Channel, so Niamh's going to be run off her feet for the next couple of years, but I'm really looking forward to seeing what she does as Laureate, and in what new directions she chooses to take it. One can assume that some focus on illustration will be on the cards, but beyond that, your guess is as good as mine.
Congratulations again, Niamh.
Book design is one of Niamh's passions, so I thought I'd post this link to an excellent TED talk I found recently on David Maybury's blog. Here's book designer Chip Kidd discussing his art. Enjoy.