This post is for people in the children's book industry who've never been to a sci-fi/fantasy convention and for regular attendees of those conventions. I think it might be of interest to both, centred as it is around the strangeness and peculiar charm, not of the attendees, but the way in which cons are organized.
And if you've never been to one of these conventions, you should give one a try. They're not as off-the-wall as people think, as I've written about in the past, and more often than not, they're a lot of fun. In some ways, they have a lot in common with festivals celebrating children's and YA books.
Humour, passion, intelligence, progressive thought and stimulating discussion are all there in abundance. In terms of understanding the digital revolution, they can be an excellent place to find out what's on the horizon and who's doing what about it.
But there are some very striking differences between the way the sci-fi/fantasy people run an event, compared to that run by the children's/YA crowd (or anyone else, in fact).
I read a blog post by Cheryl Morgan yesterday, about the problems of running one of these conventions – in her case, Worldcon, one of the biggest – and was surprised at the amount of aggravation and stress that seemed to be involved.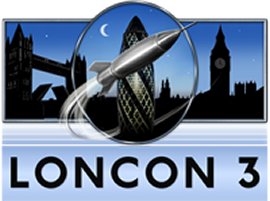 I've come across vague controversies about Worldcon online, but have yet to hear anything specific – and to be honest, I'm not that interested. I've been to one Worldcon, years ago in Glasgow, and I thoroughly enjoyed it. I'll be going to the one in London next year (also known as LonCon 3 – they have two names because there's a different organisation behind each one), and I'm really looking forward to it.
I'm not a regular visitor to conventions, but I have been to quite a few. And though I've enjoyed all of them, I can understand how easily disputes might arise over the details of how they're run.
I've been published for ten years as an author and worked for an additional ten years on top of that as an illustrator. Since my first book was published, I've probably done a couple of thousand individual events in hundreds of different venues, festivals, conferences, seminars and conventions in a few different countries.
So when I tell you that sci-fi cons do things a little differently to every other type of festival or conference, I'm speaking from experience. Actually, 'sci-fi' or 'fantasy' are misleading terms where these cons are concerned, as the topics that are covered can often include genres from fantasy through to historical fiction, crime to horror – a swathe of stories all wrapped up in the umbrella term 'Genre'.
I'm not sure what 'non-Genre' is, though it tends to be what other people call 'literary' writing. Although 'literary' writing to me, just means a story told as well as it could be, which is not necessarily the type that wins the Booker Prize . . . anyway, let's not get started on that.
I posted a few weeks back about the whole thing of how the creators of books are sometimes asked to do events purely for the publicity, and why it was so wrong. But then I give you . . . the science fiction or fantasy convention.
In most cases, these are set up by volunteers, passionate fans who often endure a seat-of-their-pants process as far as funding is concerned, where the audience pays a membership of the con, instead of buying tickets for talks. It's this approach of treating the attendees as members rather than a paying audience where the big difference lies between conventions and other book festivals.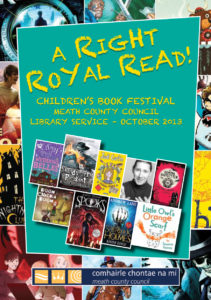 They also treat guests as a kind of higher rank of member – which includes not paying them a fee or expenses.
I like going to cons, but it can be a bit hard to justify. To give you an idea, here's the kind of conversation I'd have with my wife, Maedhbh – who knows a thing or two about running events. She organizes the Children's Book Festival for Meath every year, this year featuring nearly ninety separate events in libraries across the county.
Now, let me preface this by saying two things:
Firstly, for anyone on the con circuit who may not know it, most full-time children's authors (and many part-time ones) do a lot of travelling around the country to promote our books, doing sessions – sessions that we are paid for. We're expected to be able to stand up, from cold, in front of a room full of kids (or indeed, adults) and speak for anywhere from twenty minutes to an hour or more, and be entertaining, educational, knowledgeable, insightful and, eh . . . entertaining.
Secondly, Maedhbh is not what you'd call a die-hard sci-fi or fantasy fan.
So . . .
O: 'I have to leave you on your own with the kids this weekend. I have to go to a sci-fi convention.'
M: 'Is this for work?'
O: 'Oh, yes. Definitely.'
M: 'Are you getting paid for it?'
O: 'No.'
M: 'Are they paying any travel expenses? Covering parking fees? Are they buying you lunch?'
O: 'Eh, no.'
M: 'And you'll be gone for the whole weekend? You must be getting loads of publicity out of it. Will there be a lot of media coverage?'
O: 'No, not a whole lot. Well, somebody'll blog about it, I'm sure. There'll be some influential bloggers there, I'd say.'
M: 'Is there a big audience at this thing?'
O: 'Maybe a hundred at the whole thing, although there'll be more than one stream of panels, so probably less than fifty at each panel. Maybe less, 'cos some people will just hang out in the bar of the hotel. Or just talk outside in the corridor.'
M: 'And you're not getting paid for this? How many panels are you doing?'
O: 'Probably two or three each day. I might try and get in on an extra one if it's interesting.'
M: 'And which of your books do they want you to talk about?'
O: 'Actually, we're not really asked much about our books. It tends to be considered bad form if you talk about your books too much on a panel. Mostly, we talk about Genre-related topics set by the organizers.'
M: 'You're doing three panels a day, but you're not talking about your books? Will any of these people have met you before? Do they know your work?'
O: 'I'm not sure. It'll probably be most of the same people as last year, so they'll know who I am.'
M: 'Are these hardcore fans of yours?'
O: 'No, they're just people who read this kind of stuff. We have really interesting conversations.'
M: 'Really interesting conversations? Excellent. Will you be selling your books?'
O: 'I don't know, they don't always have a book stall. I can usually bring my own copies to sell.'
M: 'So let me be clear about this. You want to leave me on my own with the kids for the weekend, so you can go and do some events where you don't get paid, you don't get expenses, you don't get to talk directly about your books, you get almost no publicity or media attention, you're speaking several times a day, but to the same audience – a small audience – and one full of people who've heard you speak before and have probably already decided if they're going to try your books or not. But you get to have really interesting conversations. Have I got that right?'
O: 'Eh . . . yeah.'
M: 'And this is work?'
O: 'Eh . . .'
M: 'Unfortunately, I've got a work commitment on this weekend. I have to go to a Meath match on Saturday. Then I'm going to meet up with my family the next day to talk it over again. So if you want to go to this convention thing, you'll need to find someone who can take the kids for the weekend.'
Which is why I don't go to more conventions.
But this is not really a gripe about not getting paid to be a guest at conventions. I've had that rant already. Nor do I want to try and get at any one person who runs festivals. I've met Cheryl Morgan, and I don't know her well, but when I hear of her and others like her – the ones who do all the work – taking a lot of grief over what someone did or didn't like about a con, I think of our 13-year-old and his football.
He plays GAA and soccer, and the days and times of training are always changing and we hear about upcoming matches at very short notice. It's a pain in the ass. But we can't really complain too much about it, because these teams are run by parents who are doing it for free, for the love of it.
They're the ones putting in all the time and effort, so it would be churlish to criticize things when we're inconvenienced sometimes. It's easy to stand back and make comments when someone else is doing all the work.
But it's the membership versus audience tickets thing that I think really needs looking at – and most conventions are run along these lines.
Conventions are effectively festivals. They are run to bring people together to celebrate a certain type of book, comic, film etc. But there seems to be a determination to run them as if they're a sports club. There's a real amateur ethic – where it's frowned upon by some to have paid staff working on a convention. In many cases, there is minimal sponsorship. I find this bizarre, particularly with the huge amount of work needed for bigger conventions, especially given the increasingly professional approach to running other kinds of book festivals.
And once you reach a certain scale, you're expected to be professional whether you're getting paid or not. Once you're charging a hundred quid a head membership and you're taking people's credit card details, you need to be well organized, contactable, responsible to your audience. If I'm handing over my credit card details to you, there's only so much slack I can cut you because you're a volunteer. But running a professional festival is very hard to do unless someone's manning an office somewhere with regular hours. Convention organizers have to take this responsibility on themselves, at great cost to them in time and expense. Why shouldn't they get paid for it?
But where's the money going to come from? These things are often run on a shoestring and I get a definite impression from con organizers that they're constantly stressed about balancing the books.
I think that comes back to the 'sports club' mentality. Granted, it does make for a very warm, friendly atmosphere. Members are treated as people who are expected to get involved, help spread the word, to show loyalty – to be invested in the process. What this means a lot of the time is that there is a lot of interaction between the organizers and audience members who are already on board, and not enough time and effort put into reaching people outside of the club. You don't get many new members in every year; you're preaching to the converted. This approach also means that members who've been around a long time have opinions about how it all should be run – and expect to be obeyed – even if they don't do any of the work. And I know I might seem to be doing just that here, but it's not the people, it's the whole system I wonder about.
Guest speakers, to a lesser extent, are treated with the same familiarity. If you're running a smaller con and you don't pay a fee or expenses (you may even ask the guests to pay membership), then the guests you have are most likely local authors who are there because they're into it and they know the crowd, or someone who's new and eager, but not a known name, or a more serious mid-list author whose publisher has covered their costs (which is becoming less and less likely), or who forks out their own money to visit conventions a lot, which means that your audience may well have seen them a number of times before.
If you don't have a large enough audience, you can't attract the big names. If you don't even have enough mid-list names, you can't attract the audience – or sponsors – so you don't get in enough money to cover your costs. If it costs your speakers money to come to these things, when they get paid to attend other festivals, they're much less likely to come to yours. It also discriminates against writers who cannot afford to travel and stay somewhere at their own coast, as well as having to cover the membership fee.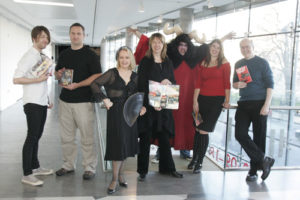 If you have the same guests every year, even your loyal members get jaded. And when you get right down to it, the success of anything like this is judged on the experience of the audience. But in ten years of being published as a writer, most of those years spent working at it full-time, I've seen the culture of book festivals flourish. There are many more, in Ireland at least, than there have ever been before.
Even with arts budgets being slashed, these festivals are professionally run, well promoted, supported by their local communities and they can often attract big audiences, proper sponsorship and big name authors. Some can now boast a dedicated full-time staff and a permanent office. Normally, they're in league with their local arts office or library, both of whom have the potential to source a venue for free. And if con organizers think that these people are all less passionate or motivated about their work, then they've never been to one of these festivals.
There is so much ability and experience among convention organizers, and they have such a passionate audience, it seems strange to me that the process is so stressful that organizers often get burned out after a few years. And yet the model for doing these conventions differently is already being used and used successfully elsewhere. Wexworlds was the first attempt to combine the eclectic quirkiness of a sci-fi con with the energy and fun of a children's festival and I thought it worked really well, but it was run by an arts office facing budget cuts and only ran for a couple of years. I'd love to see something like that done again.
There's huge potential in combining the experience of con organizers with the resources of libraries and arts offices, while taking a more professional approach to sponsorship, promotion and audience building. I like conventions, but I'd love to see them run more as a festival, a celebration of the work they centre round, rather than as a club for fans, some of whom clearly don't appreciate the work the organizers have to put in and whose work sometimes seems as if it's something to be endured, rather than enjoyed.