If you've been to any of my talks, you may already have heard me say that, for me, the definition of a 'Young Adult' book is something that appeals to both young and adult readers. Looking at it this way, you could say that most of our entertainment – whether it's written down or shown on-screen – is 'Young Adult'.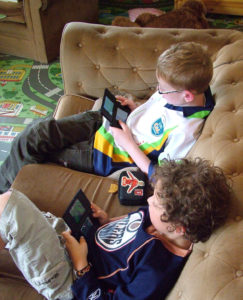 I'm not the only who thinks so. The Library Journal in the US ran a recent article discussing YA literature, and who read it. And the answer to that, it seems, is pretty much everybody. . . . . . . .
There has also been an outcry about the desolate wasteland that children's publishing apparently threatens to become, due to the lack of interest young people today have for books. Y'know, what with their minds being poisoned by electronic entertainment devices of every kind – though Sam Leith in 'The Observer' takes much the same point of view as me, arguing that these are just new ways in to reading.
But surely these new kinds of media are pulling our newest batch of trainee adults away from books? I certainly would have thought so. However, according to an article on Timothy McSweeney's site entitled 'Young People are Reading More Than You', it seems this isn't the case. Thanks to the Inis blog for pointing the article out.