I'm going to be appearing on Elev8, on RTE 2 at around midday on Monday (the show is airing earlier than normal because of Easter). It's part of the promotion for the Drogheda Arts Festival. The Enchanted Exhibition, which started out in the Garter Lane Arts Centre in Waterford, has now moved to the arts centre in Drogheda, and is being launched at the same time as the festival there. I'll be doing a session there too, at 10am on Saturday the 30th of April.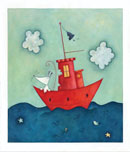 The exhibition features work from myself and four other illustrators: Niamh Sharkey, Adrienne Geoghan, Annie West and Bruce Ingman.
So far, it's been shown in Waterford, Galway, Abbeyleix and Newbridge . . . and now it's reached Drogheda. If you get the chance, you should go and check it out.
Obviously, it's always great to get a spot on the telly, so I'm really looking forward to the show on Monday, but with only about three and a half minutes to talk, and no telling what questions will get thrown at me, the pressure's on get the right stuff said!