Why is it so hard to make money from something that so many people love so much? What is it about books that they put those who love them most through the mill? It can be hard to love books sometimes.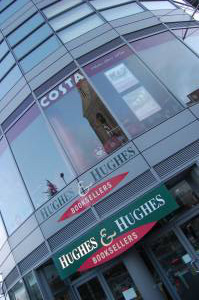 I learned the other day that the Hughes & Hughes bookshop chain is closing down – in fact some of their branches have already closed, including the one in Dundalk. I've heard as many as 225 people will lose their jobs in total, although up to 120 could be kept on now that Eason's are taking over H&H's airport shops.
But this is still a real blow to the book business in Ireland. Hughes & Hughes were the kinds of shops we needed here; bright, friendly, well-stocked with a good range and the kind of enthusiastic, knowledgeable staff to guide you through it. As we lose an increasing number of local, independent bookshops, book-loving chains like H&H are needed all the more.
I can't help wondering if the demise of H&H is less a result of a stormy book market, and more the crash of the property market and the attempts by landlords to raise rents. High street rents are becoming a major bone of contention in Ireland, crippling otherwise healthy businesses. Another reason to hate the greed-obsessed ****ers who got us into this mess.
To all the staff of Hughes & Hughes, I hope something can be worked out, and if not, I hope you can manage to stay in the book world. Good luck.
On another negative note, it was with some grinding of teeth that I read an article in the most recent issue of 'Books Ireland' the other day. It was talking about the levels of funding given to each branch of the arts by the Arts Council.
I think we can all agree that, of all the arts, it is for writing that Ireland is best known (all right, I know U2 are gigantic, but they're not a whole art form in themselves). We have a literary pedigree that is second-to-none, with a bucketful of Nobel prize-winners and some of the most recognized literary names across the world. We are a surprisingly big fish, given the size of our little pond.

In the world of children's books, Eoin Colfer, Darren Shan and Derek Landy occupy the top of the charts, while adopted Irishwoman Kate Thompson has seized one award after another, not least the Whitbread Children's Prize (and almost the main one). And do I really need to mention Roddy Doyle? Irish writers are the pride of their country, one of the single greatest factors raising its profile.
So it would be safe to assume that when it comes to the funding of the arts, literature must be high up on the list of priorities, right?
Apparently not. In terms of funding, it comes behind Film (E2 million), Dance (E2.6m), Opera (E3.6m), Visual Arts (E4.2m) and Theatre, which got – wait for it . . . 13 million euros this year. More than six times the budget for literature. The Irish Writers Centre recently had its budget cut completely, along with numerous other literature organizations and publishers. The branch of literature that receives the bulk of the funding is poetry.
According to the Arts Council, a writer only needs a pen and paper to work, while things are very different for a theatre company. Truly we are a cheap date, compared with other, higher maintenance, art forms.
Has this anything to do with the fact that, of the Arts Council's twelve members, at least five are theatre people? We are assured it isn't. Literature has one representative, Colm Toibin. I can't really blame the theatre people, they're looking after their own. Except you'd think, if they're running a body that's supposed to be representing 'the Arts', they'd be looking at the wider picture.
We're a small country facing big waves of products washing in from other countries, so the arts here all need a bit of help
. But if theatre cannot survive without that disproportionately large life-belt, they should learn a few new strokes from publishers (who need more than a pen and paper to produce books), and devote a sizeable part of their resources to making stuff people will pay to see. Sure, we all want to make art, but like authors, their first challenge is to engage their audience. When Shakespeare put pen to paper, he knew he had a crowd to please.
And don't even get me started about opera.
But to end on a positive note, there is new life emerging in Irish children's publishing, in the form of the launch of Little Island Press. With the firm hand of Siobhan Parkinson at the wheel as commissioning editor, they are putting forth into troubled waters. Knowing Siobhan (who has never been short of imagination – or nerve), I expect they'll be producing some great work. They're particularly interested in bringing some of the best works published in other languages into the Irish market – something we're not very good at over here. More power to them. It's nice to see a new contender out there.