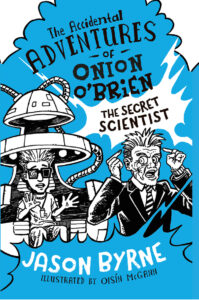 Release Date:
September 2020
It's another mad few days in the life of Onion O'Brien.
Strange things are happening in the old folks' home in Ballinlud. Old people who've been tucked away in the home for years are suddenly showing bursts of unnatural energy and new abilities. At the same time, a group of mysterious figures in black suits have been seen hanging around.
And of course, Onion and his gang have found themselves right in the middle of it all.
Onion and his friends, Sive, Dallan, Clíona and Onion's older brother Derek only went to the nursing home to help Granny Mary teach a dance class. Now they're mixed up in a mystery involving a Russian scientist, a conniving and cheapskate manager, some secret agents, and a bunch of dangerously active old people. Oh . . . and the dance classes.
Things are about to get freaky.