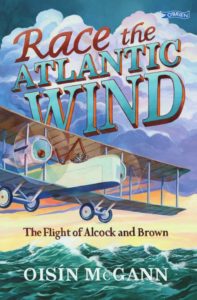 Release Date:
2019/06/06
Who will cross the Atlantic first?
Maggie McRory's adopted home in Newfoundland has just become the setting for the world's biggest news story. With powered flight still in its infancy, the world's best aviators are competing to achieve what many believe to be impossible: to fly non-stop across the Atlantic Ocean.
To win the £10,000 prize, the pilots must fly 1,800 miles, in cockpits open to the sky, navigating by the stars and the sun. In aircraft made mostly of wood, fabric, and wire, they will face merciless storms and freezing temperatures. Two veterans of the Great War, John Alcock and Arthur Whitten Brown, set out for Newfoundland to challenge some of Europe's most famous pilots in this attempt to make history.
For sixteen-year-old Maggie, this is a chance to escape her narrow existence. But her war-scarred uncle views the daredevils, their aircraft and all the attention they are attracting as a threat to the island, and his very way of life.