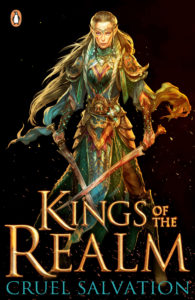 Release Date:
2015
Following the devastation of War's Harvest, where The Devourers ravaged the continent, relentlessly destroying and growing in numbers - Vallen Warnock, Kaydi, Tolka, Squall, Grutt and a few other survivors have escaped across the sea to Vinland.
Cruel Salvation follows the first landings of the new-settlers as they rebuild their lives in a new world, filled with new dangers. Allies and enemies are thrown together in a bid to survive and create a new way of life. The gruelling journey has left many dead, while others are starving and weak, but some are hungry for power . . .
Cruel Salvation delves deeper into the world of Kings of the Realm, revealing more of the exhilarating conflict, betrayal and hope that has consumed players and readers alike.