I was in the lovely setting of Skerries last night, for the opening of the Enchanted Exhibition in Skerries Mills. This is the fifth and last venue to host this collection of work by Irish illustrators, and it's only on until the 25th of September, so if you haven't seen it yet, and you're interested in this kind of thing, go check it out now.
The exhibition features work from myself and four other illustrators:  Niamh Sharkey (that's her in the picture),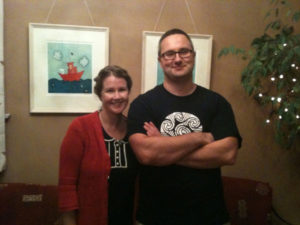 Adrienne Geoghan, Annie West and Bruce Ingman (an honorary Irishman, having married his way into the country from abroad).
So far, the exhibition has been hosted in Waterford, Galway, Abbeyleix, Newbridge, Drogheda and now it's reached its last stop in Skerries. My thanks to Niamh and everyone else involved in bringing the show to the Mills, and the folks in Garter Lane Arts Centre who started things off, and then oversaw the move from each location to the next – it's no easy task to organize and manage something like this.
The launch was the first event in the Soundwaves Music and Arts Festival in Skerries, and was officially opened by Robert Dunbar – reviewer, editor, advocate and arguably the grandaddy of the children's books community in Ireland. Also joining the Skerries crowd for the opening was Polly Dunbar (no relation, as far as I know). Polly is a friend of Niamh's and another excellent picture book author/illustrator. She's based in the UK, but has been over here for a few months doing some design work for an animation company. Like most illustrators, she has more than one hat (and I'm sure she'd insist on all of hers being very pretty ones).
Remember, the show only runs until the 25th of September, and this is your last chance to see it. Get out there, look at some original artwork, check out Skerries Mills, maybe take in some of the other events during the festival, or even just go for a walk by the sea and make a whole day of it.