This is a weird business. Just before Christmas, I got a courier package from Random House. I normally know ahead of time when I'm due something from them, so I was a little curious when I opened this one up. Imagine my surprise (and pleasure . . . and a touch of confusion) to discover that the first two Armouron books, 'The Armoured Ghost' and 'Lying Eyes', had been translated into German.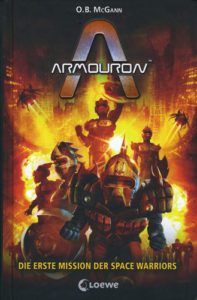 And published in hardback, no less.
This is how I found out – I opened that package to discover my copies of the books.
Now, normally when my books are sold into another country, I'll be consulted, and there'll be a contract to sign. Beyond that, how much input I get into the foreign editions is down to the individual publisher – some I have contact with, most I don't. There's none with the Armouron stuff, because I don't own the creator's rights, the designer of the toy range does – although I did do most of the initial set-up of the world and the characters. Even so, you'd think somebody would have sent word that they'd sold the German rights for two of my books. And my agent (who normally handles foreign rights for me) was as surprised as I was.
Not that I'm being all negative about this (well, a little more communication would be nice); it's always cool to see your book in another language, even if most of the rights are, in this case, owned by someone else.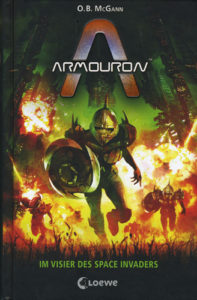 It's interesting that Loewe, the German publishers, kept the original covers too – those often get changed when you break into a different market. You can have a look at the covers of my other foreign editions here. I thought I'd got over the stage in my career where I found out about stuff after it was done.But this little episode just goes to show how unpredictable and disjointed this industry can be at times, even when you're working with the most professional people.
It reminds me of my first ever foreign edition, when 'The Gods and Their Machines' was published by Tor in the US. I did have to sign a contract for that one, but the first time I saw the cover of the book was when it appeared on Amazon. Thanks, guys.