I've just realized how long it's been since I posted anything – thank you Facebook, for diverting my online attention elsewhere. It's just been easier to stick bits and pieces up as I went, rather than writing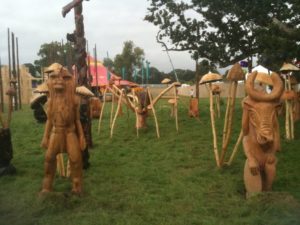 something at greater length . . . you know . . . say a few hundred words. Who'd have thought blogging would end up being considered 'long-winded'. And let's not even talk about Twitter.
Anyway, time for a bit of catch-up as I'm sucked into Children's Book Festival. This summer, I did a couple of sessions at the Electric Picnic – the two pictures of sculptures are  just random choices among the weird and wonderful sights to be seen there among the various stages. It was a fantastic spectacle, and because I was starting early on the Friday (I only went for the day), I got to see a lot of the stuff being set up, which – nerd that I am – I found almost as interesting as some of the shows that were on. There was muck, but not too much of it, and the widest range of food I've ever seen at an entertainment event. T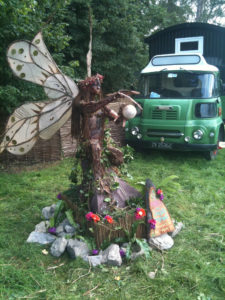 here was a lot of music playing, but to be honest, I just kind of drifted between the different areas for most of the day, taking it all in.
You could indulge in spa treatments, heated jacuzzis, various relaxation zones, literature events, a small fairground, a large family area with plenty to do for kids and, of course, a wide menu of gigs, from small indie acts to international stars.
Maedhbh and I got to go with our twelve-year old to the London Olympics too, thanks to Maedhbh's savvy approach to buying tickets. We stayed with a mate of mine over there, and got a morning of athletics at the stadium, and . . . wait for it . . . a morning session of women's boxing, including seeing Katie Taylor in the semi-final!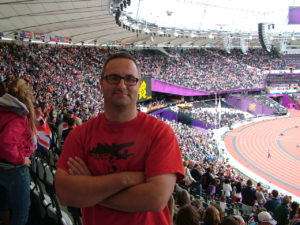 That was absolutely brilliant, as good an atmosphere as I've ever felt anywhere. There was a chance to catch up with my agent while I was in London too. With Frankfurt Book Fair – arguably the biggest book fair in the world – on this week, she'll have been run off her feet, and I've a number of different books being pitched at the moment, so we had a lot of stuff to talk out while I was in the neighbourhood.
As far as work is concerned, the last few months have been hectic, in a varied, patchy way. It's been a real reflection of what it's like to be a professional writer – at least one who does well enough to make a living, but hasn't reached the stratosphere of success that challenges you with problems like juggling international flights (okay, there was London, but it doesn't count if it's not book-related) and fighting off the paparazzi. The summer months are normally when I get time to write for prolonged periods, but that just didn't seem to happen this time, so I've been fitting in the writing when and where I could.
Given that it's now time to get stuck into Children's Book Festival, taking me to places like Dublin, Kildare, Cavan and Tipperary among others, I should should really be further along with the writing, and things have been coming along. I'll post a bit about what I've been up to in the next week or so.