I'm just catching back up on work after returning from Germany last Sunday, so I finally have some time to do a post on the trip.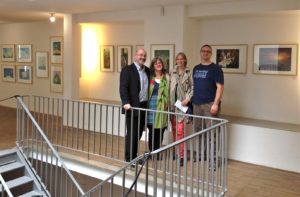 I was in Cologne for the annual Children's Literature Festival run by Uschi Schröter and her fantastic team at SK Stiftung Kultur. Every year, they feature writers from a different country and this time it was Ireland's turn.
I was in good company, with PJ Lynch, Marie-Louise Fitzpatrick (accompanied by hubbie and children's author and illustrator Michael Emberley), Sheena Wilkinson, John Boyne and Judi Curtin. The week before, the city had played host to our Children's Laureate, Niamh Sharkey, Siobhan Parkinson, Terry McDonagh and John Connolly.
The photo above shows PJ, Uschi, my translator Ulrike, and me at an exhibition featuring the work of PJ, Marie-Louise and Niamh's paintings (I nicked the picture off PJ's blog – thanks PJ).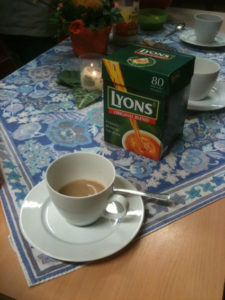 But for most of us, it was all about the libraries and schools we were brought out to, to do events for the festival.
In my case, I'd been asked to do five events centred around Mad Grandad, for ages of 8-11 years. Given my complete lack of German, I'd have to be translated for the kids, a task that interpreter Ulrike Sawicki performed with relish and expertise. She was great fun to work with. This was a new experience for me – I've been translated before for panels and interviews, but never during one of my sessions (unless you count sign language at a school for the deaf). But with Ulrike's help it went down really well, and I had a brilliant time. It also forced me to talk a little slower, which was good, because it's a discipline I have yet to master in my sessions.
I had three sessions in libraries and two in schools, and the people of Cologne were nothing if not welcoming and enthusiastic. At one school, I was treated to a cup of Lyons tea (the first cup of tea I've probably had in years). They'd done a whole project on Ireland because their teacher had spent a lot of time there.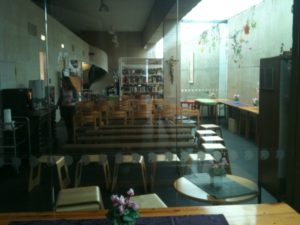 I was asked if I wanted some Guinness, which I regretfully declined, having seen all the kids being given tea (many for the first time ever) and proceeding to go haywire.
Two of the libraries I visited were Catholic libraries – I suppose in the same way that schools were originally run by the church in Ireland. They're staffed by volunteers and also act as community support centres. The first one I visited was actually part of a brand new church building. It had a dedicated area downstairs devoted to community projects like free meals, fixing up bicycles to give to kids who don't have them, taking in donations of things such as clothes, and even training people up on a forklift and one of those street-sweeper trucks.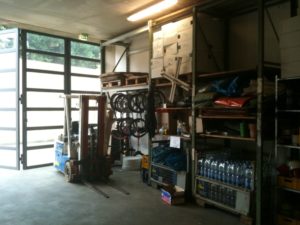 Imagine St Vincent de Paul, but working out of a brand new, purpose-built headquarters.
Wherever I went, I was given a warm welcome and all the events were run with energy and efficiency. it's funny how kids in different countries are all the same when you get right down to it, but then you pay all the more attention to the little differences. In Ireland or Britain, the most common questions are 'Where do you get your ideas?'; 'What's your favourite book?' and 'How much money do you make?'. In Cologne, the first two questions still got asked, but I was only asked once about the money. Instead, one of the most common questions was if I had children and what their names and ages were. One kid asked if I smoked, which was a first (I don't, and never have). I also got asked why we spoke English in Ireland (a tricky one to answer briefly) and did I write my books in Irish too (no, and after thirteen years of learning the language, I'm barely capable of composing a coherent sentence in it).
All in all, I had a brilliant time over there. I brought the family over too (you pay for that part of it yourself, but Uschi and the others were a great help), but I'll cover some of the things we did in the city in a separate post. My thanks to Uschi, Ulrike, Monica and everyone involved, and congratulations on a fantastic festival.