This wasn't the picture I was going to put up. To mark the publication day for 'Rat Runners', I was going to post the cover again, but I've done that a few times so I'm going to give it a rest for the moment.
Instead, I'm putting up this. When I finish the manuscript for a novel, I draw up a black and white cover for it. This was the one for Rat Runners.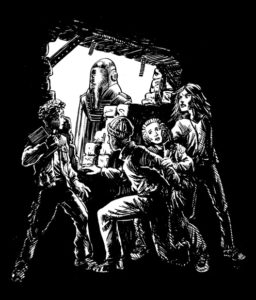 Like the others, this was not intended as a concept for the final cover, or even an internal illustration. I draw these for a few reasons, but mainly, they're to remind me of something.
When I was a kid, I used to fill copybooks (that's 'exercise books' for you folks in the UK) with stories and pictures. I fantasized about being a writer and illustrator. Sure, I wanted to be loads of other things, but it was always really this thing. I never really felt like I had a choice in the matter.
So here I am, twenty-five books later. This is the dream. But people who aren't in the business must sometimes be surprised at how cynical full-time children's writers can become, and I'm no exception. I can be quite the belligerent fecker at times. To people who are still waiting for their shot, this attitude must seem churlish and even ungrateful considering we're doing what we dreamed of doing.
We don't mean to be negative about it, and deep down, I think most of us feel really privileged. But making it in this job can be a REALLY hard slog, unless you're exceptionally lucky – it can lead you to be frustrated, stressed and downright exhausted from constantly trying to break through, and then you start making a living from it, and you find there's rarely any let up, unless you reach that tiny, TINY golden percentage at the very top.
But I do not consider myself a 'struggling writer'. I am not a tortured soul, writing to fill a god-shaped hole, or to overcome my neuroses. I am not oppressed by the demands of my muse. I write and illustrate stories to make sense of the world, to connect to something greater than myself, but when you get right down to it, I'm still just the kid making stories with pencils and markers in his copybooks.
And that's why I draw pictures on the the fronts of my manuscripts.
I hope you'll check out Rat Runners, and I hope you enjoy reading it as much as I enjoyed writing it.