I have to admit; even after twenty-one books, I still get excited seeing my latest one fresh off the presses. I get a box of author copies when the production run's done and they're all being packed up for distribution, but I normally get a couple as soon as my editor can send me them, maybe one or two weeks ahead of the 'official' ones.
It may seem odd, but it's not the text I have a look at first in a book – it's the illustrations. In this case, there are just the cover and the chapter icons, but I examine each one in turn to make sure they've come out okay.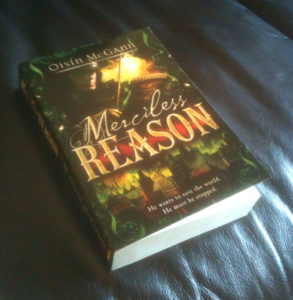 Before I can really enjoy the new arrival, there's a short period of suspense as I search for flaws. It's rare that I find any worth mentioning – I have the good fortune to work with people with a thorough knowledge of their business.
There were a few last minute changes before we went to print: the blurb got shortened down, I added a couple of bits to the background piece at the end, as well as a scatter of other minor alterations.
In a way, I'll stop thinking much about 'Merciless Reason', as I do with all my books once they're done. I'm about to start editing the next one, and I'm getting on with some other sideline projects, so that's what's going to occupy my mind for the next while. But I'll still pick this up from time to time over the next few weeks. It still feels good.
Thanks to Lauren, Sue, James and everyone at Random for all their work.
Here's the new, shortened blurb:
'There's no escaping this family. I'd have an easier time shaking the plague.'
It has been three years since Nate left Ireland, and his ruthless, feared family, behind. But the Wildensterns are not finished with him. When he discovers that his treacherous cousin is still alive, he is drawn back into their world of plotting, betrayal and murder.
At home, Daisy and Tatiana are among the few who are trying to stem the damage the Wildensterns are doing. The family has become even more hated by the people it treads upon in its thirst for power.
One thing is for certain – the Wildensterns are back. Violence will ensue.