With 'Merciless Reason' due out in March, we're on the last stretch before it goes to print. The copy edits are pretty much complete, I'm working on the illustrations for the chapter icons at the moment, the team at Random House should have the page layouts done up before Christmas . . . and the cover is finished.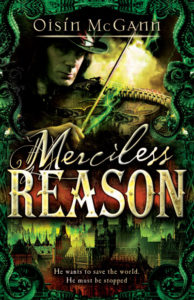 I know I'm biased, but I have to say I love it. I came up with the basic concept, but then James Fraser, the designer (formerly at Random, but now working freelance) took that and ran with it, recreating it in a brilliant layout. Then digital artist Steve Stone produced the final illustration, using a mixture of artwork, photography and computer imagery.
James has done most of the design work on my books with Random House and before this, Steve did the illustration for 'The Wisdom of Dead Men'. Check out the portfolios on their sites – these guys are among the best in the business. Here's the blurb for the book:
'There's no escaping this family. I'd have an easier time shaking the plague.'
It has been three years since Nate left Ireland, and his ruthless, feared family, behind. But the Wildensterns are not finished with him. When he discovers that his treacherous cousin is still alive, he is drawn back into their world of plotting, betrayal and murder.
At home, Daisy and Tatiana are among the few who are trying to stem the damage the Wildensterns are doing. The family has become even more hated by the people it treads upon in its thirst for power.
Fresh mysteries must be unravelled. The new church is being redesigned with strange mechanical devices built into its walls. An ancient relative is given control of the family. The children of an orphanage have gone missing.
One thing is for certain – the Wildensterns are back. Violence will ensue.