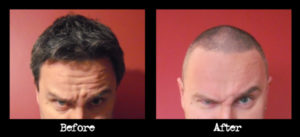 So we did it. Actually, the ten barbers led by John McGuire did it, the rest of us just sat in the chairs and stayed still long enough for them to lay our heads bare.
The Ray D'Arcy Show's attempt at breaking the record for the number of heads ten barbers could shave in an hour, was an odd mix of charity fund-raising party and sheep-shearing contest.
Each participant had been asked to send in a photo to show they had full head of hair. We were asked to turn up at the Dakota Bar in Dublin at 7am, which is an unholy hour of the morning if you're coming from anywhere outside Dublin. Which people did. They came from all over – Tipperary, Galway . . . everywhere. Just to have their heads shaved.
I joined the queue when I got there, put on the t-shirt, the number sticker and got my picture taken. Then I did my best to pass by the table laid with buns and cakes, and took a tea instead of queuing for the drip-fed filter coffee (Filter coffee for over three hundred people? Now that would be a record).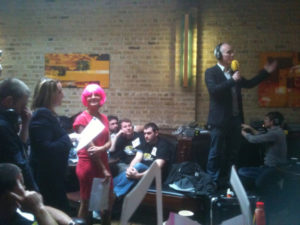 My brother-in-law, Joe, arrived about 45 minutes after me, and we just sat round with everyone else, enjoying buzz, listening to the Ian Dempsey Show and getting told what we were going to be doing.
For probably the first time in my life, I looked at every other head of hair around me, and wondered what it meant to the person beneath it, and what their story was. Joe is forging a new career as a photographer, and there were rich pickings for shots in this scene.
Ray and gang showed up just before 9am, the Today FM sound guys having already set up their gear. He did his MC thing, and then went next door to the Style Club, where the sheep-shearing was to take place.

I had let myself go a little extra woolly on top in honour of the occasion, but it was nothing to the sacrifice some other people were making. There were guys there who hadn't had their hair cut in ten or even twenty years. There were girls who were giving up their long locks to take part. Call me old-fashioned, but I joined most of the other lads in giving the girls the biggest cheer in the place, when Ray called for thanks.
There was a lot of waiting and queuing involved. We waited in a queue to get our t-shirts, our numbers, to be registered and photographed. We waited to be called into the barbers.
We queued out the door, waiting to get into the Style Club. Once the first lot of chairs were filled, we waited for our turn to take a seat. Each barber had three seats in front of them, so there'd be no faffing around when they finished one head and moved on to another one. There were always two more waiting.
There were two floors – I was upstairs. People were milling around: there were the barbers, each of whom was accompanied by an independent observer who would check each head was shaved properly. Then there the shavees, the Today FM staff, and the extra salon staff. It was barely organized chaos. A big digital clock against one wall was set up to mark the time. This was where the real tension started to set in, waiting for the whole thing to kick off.
The one thing that most people were worried about was the blood. It was one of the rules for breaking the record. If blood was drawn more than once in the whole operation, the record wouldn't count. If you had any skin tags, moles, spots, anything, you had to declare it.
I have that birthmark on the back of my head, and I was praying it wouldn't trip up the clippers. 'Please don't let my head screw this whole thing up. Please, please, please . . .
Then we were off . . . And immediately we could see just how fast it was possible to give someone a skinhead (the guy in the picture here was in the first round). And yet, things were surprisingly calm. I was in the first round of refills, called to a chair just a couple of minutes after the start. As instructed, I stuck the tip of my finger on my birthmark, and the guy shaved all around it until he had cleared most of my head, then carefully went to work on the dodgy area. Even so, I think my scalp was bare in about a minute and a half. I'm still not sure if it was a zero or one blade, but it's the most light my scalp has seen in over fifteen years. Like everyone else, I came out rubbing my head, experiencing that strange sensation of having stubble where a thick head of hair used to be – we were applauded as we walked back downstairs past the queue of people waiting to take their turn.
Once we were done, we were sent back to the bar.
The previous record of 229 heads was set in Alberta, Canada in 2006.  There have been six unsuccessful attempts to break this record, but on Friday 18th February,  The Ray D'Arcy Show managed to gather together shavers and shavees who smashed that record by making  315 people bald in one hour.
The record was adjudicated by Patricia Magill from the Guinness Book of Records, and at midday on Friday in The Style Club, Dublin 2, Magill confirmed the record had officially been broken.
We were ushered out into the street, so that all the photographers could get a shot of our communal baldness (and so that we could scare some old lady witless, the old dear caught in the middle of the crowd and no doubt thinking she'd just walked straight into some neo-Nazi rally). If you look very carefully at the pictures published the following day in 'The Irish Times', 'The Star' and 'The Mirror', you can just make me out (although I was really looking). In the Times photo, it's just the backs of our heads, but I'm the one to the right holding the little black camera. Honestly, that's me.
It was a real buzz to take part in this huge operation. I had great craic, and a huge thanks to all the generous people who sponsored my baldness.