While looking for info on a comics artist recently, I came across a site called Irish Comics Wiki . . . and then found this on it – a real blast from the past. It's amazing what people can dig up!
Back in art college, I was set on becoming a comics writer and artist. Not long after leaving, I'd started work on a few stories, but wasn't sure how I was going to get them produced – there were already a lot of photocopied comics out there from local enthusiasts, and I wanted to try and go one better, and get mine printed properly.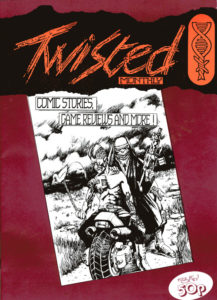 I knew a guy who ran a computer games shop and, along with a couple of the lads who worked there, we decided to do a magazine that would combine my work with games and Manga reviews. I came up with the title 'Twisted', and we sold just enough ads to cover the first print run – three hundred copies, I think – with a three-colour cover.
There were three stories: 'The Goon Squad', about a group of anarchic cyborgs led by a disfigured guy named Ghastly (you can tell Derek Landy I had that one first); 'Nursery Crimes' about a psychopathic criminal who is executed and reincarnated as a toddler who tries to take over the creche and meets his match in a criminal prodigy; and 'Titanium', about a tiny little scientific genius who creates a superhero that looks human, but which is actually a robot – he controls it, riding around inside its chest cavity.
Two things prevented the completion of the second issue: the first was every self-publisher's Achilles heel – marketing and distribution. We published the comics without a clear idea of how and where to sell them. The other obstacle was that I started getting commercial illustration work that paid . . . y'know . . . money.
If you ever come across a copy of this mag, hold onto it, there can't be many left out there.