They really must like Irish steampunk in France. 'Voraces', the French edition of 'Ancient Appetites' (published by Mango), is up for a third award.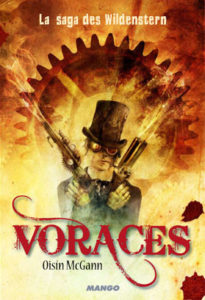 Les Mordus du Polar is an award organized by librarians and focuses on mystery novels – which is interesting in itself, as 'Voraces' does start off as a murder mystery, but I'm not sure how long it could be said to stay in that category.
There is a shortlist of four books:
'Comment Je Suis Devenue Flic' by Anne and Marine Rambach
'Le Garçon Qui Volait des Avions' by Elise Fontenaille
'Le Tueur a la Cravate' by Marie-Aude Murail
And my one, of course. As far as I know, all the other authors are French. Getting shortlisted like this is brilliant news, particularly as it's run by librarians – a very influential network to have on your side. Last year, I was shortlisted for le Grand Prix de l'Imaginaire in the Young Adult (Foreign) Novel category and le Prix Imaginales 2011 in the Jeunesse Category, but didn't win either, so fingers crossed this time . . .