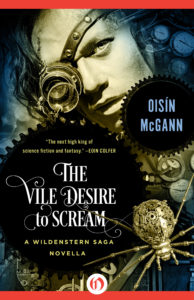 The young wife of the most powerful man in Ireland has been kidnapped, and Nate and Gerald must save her—from their own family, if necessary.
While her husband is away on business, Daisy Wildenstern buys a shape-shifting engimal from the charming adventurer Peter Barnum. The origins of the part-animal, part-machine being are a mystery.
Life is cruel in Daisy's family. Trained from childhood to be merciless predators, the Wildensterns are taught to trust no one—especially not their treacherous relatives. As long as their reputation stays intact, nothing is considered unacceptable on their quest for wealth and power. But Daisy belongs to a new generation of Wildensterns who are determined to defy their elders and live a more honorable life.
When Daisy and the engimal go missing, it is of little surprise that most of her family doesn't seem to care. It's up to her brother-in-law, Nate, and his cousin Gerald to find Daisy and face her kidnapper, a ruthlessly cunning hunter.
With enemies like this, who needs family?