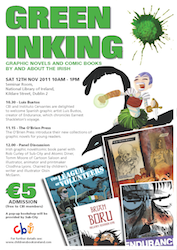 Children's Book Festival has come to a close, and I'm starting to catch up on all the things that have piled up on the desk while I've been running around like a blue-arsed fly, and shouting at defenceless children. One of the things I've got to swot up for is the Green Inking Comic Event this Saturday. I'll be chairing the proceedings.
This half-day seminar will take as its inspiration the increased visibility of graphic novels and comic books by Irish creators and/or concerning Irish themes. The event will take place at the Seminar Room in the National Library of Ireland from 10am until 1pm.
Here's the schedule for the day:
10.30 – Luis Bustos
CBI and Instituto Cervantes are delighted to welcome Spanish graphic artist Luis Bustos, creator of Endurance, which chronicles Ernest Shackleton's voyage.
11.15 – The O'Brien Press
The O'Brien Press introduce their new collections of graphic novels for young readers.
12.00 – Panel Discussion
Irish graphic novel/comic book panel with Rob Curley of Sub-City and Atomic Diner, Tomm Moore of Cartoon Saloon and illustrator, animator and printmaker Cliodhna Lyons.
I've also just done a guest post for Children's Books Ireland, telling the story of a typical morning for me during Children's Book Festival. I'll have to do a proper round-up for myself soon (now that I've mostly recovered), but in the meantime, you can check out my piece on the CBI blog.