Well, 'Merciless Reason', the third Wildenstern novel, is well and truly out in the shops (and libraries, of course). There are a lot of up and coming authors out there (though I still count myself as 'up and coming') who focus all their efforts on getting published for the first time – which is natural enough. But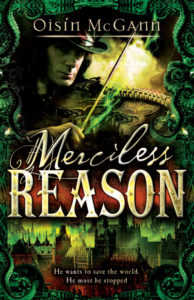 I thought I'd post a bit about some of the things you have to do as a writer to stay published and sell books.
Having just come back from Paris for the book fair there, I had another school event in Cortown, in Meath, during the week, and then headed south for the Waterford Writers' Weekend. This was originally known as the Sean Dunne Writers' Festival, and they had an impressive list of guests down for the weekend, including Brian Keenan, Martina Devlin, Tim Severin, Donal MacIntyre, Monica McInerney and many others.
I had four different kinds of events on over the weekend: a theatre session for schools on the Friday in Garter Lane, the keynote speech for the Sean Dunne Young Writers' Awards, a writing workshop for kids in the library on Saturday morning, and 'The Ideas Shop' with Sarah Webb and Judi Curtin in the afternoon. In this talk/show, we take turns talking about our influences, inspirations and techniques. I've done this gig a few times in different places with Sarah and Judi, who are always a pleasure to work with.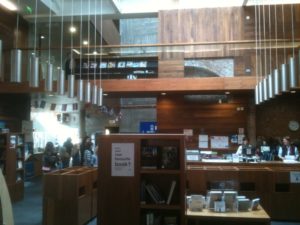 They speak a lot calmer and somewhat more coherently than I do on stage – and are less prone to sensationalism. We approach writing from three very different points of view, so this event gives an audience a well rounded view of the craft.
Anyway, that's four very different types of talks in the space of two days, while trying to get some work done in the downtime. But Waterford is a lovely city centre to walk around, with a pedestrianized square and the long quays along the river. The library building is beautiful inside, although it's somewhat echoey if you're trying to run a workshop right in the middle of it. They do have other rooms for that kind of thing, it's just that Sarah and Judi were running workshops at the same time and must have bagsed them first.
In case I hadn't done enough driving over the past week, I'll be in Athenry in Galway tomorrow, and in Belfast the day after.
A couple of weeks ago, I was asked to be a shortlist judge for the Scottish Children's Book Awards (I'm doing it for the 12- to 16-year-old category), which is run by the Scottish Book Trust. I've judged children's and amateur competitions a few times, but this is the first time I've been asked to sit in on national award for published books.

I've just received the box of fourteen novels through, all by writers who are from or live in Scotland. I can't tell you which ones they are – it's all very hush-hush. I've got less than two months to read them all – which is just about my limit – before the meeting in Edinburgh to set the shortlist near the end of May. It's an award that authors should really appreciate, as the winners are decided entirely by children and young people in schools and libraries across Scotland who will read, discuss, review and vote on their favourite books.
There's so much you have to do to promote your work when you're in this business, that getting long stretches to write can be a quite a rare pleasure. I'm looking forward to the Easter break for just that reason, but in the meantime, I'm currently designing the poster for a competition I'm going to run to promote 'Merciless Reason'. I'll launch it officially after the Easter holidays, but the winner will make a cameo appearance as a character in my next novel. So if you fancy seeing your name in a novel, keep your eyes peeled for the release of the details after Easter.
Finally for now, here's a cool example of someone who got a job as a screenwriter (and went on to enjoy great success), through the skillful expression of his love of words in his application letter.