'Ancient Appetites' (aka 'Voraces') and les Mordus du Polar got us to the Paris book fair – see a transcript, in French, of the authors' panel event here. And while the Salon du Livre was a great experience, but there was also the city, of course . . .
After landing at the airport, we took a taxi to our hotel, where we dumped our luggage. From there, we took the Metro into the city centre, wandering around, taking in the sights. We didn't have a lot of time, as I'd be working all of Saturday, so we didn't want to spend a huge chunk of our time queuing at the city's main attractions. We did find our way to the Louvre, but we didn't go inside, happy to meander around the outside (which would boggle your mind if you looked long enough) before going for lunch.
I'd been to the Louvre before, and it would take you days just to see everything inside this one museum. It was an absolutely beautiful day, so we stayed outside as much as we could. After a bit more wandering round, we took an open-topped bus tour to get our bearings and get a brief look at the biggest sights: the Eiffel Tower, the Arc de Triomphe, the Champs-Elysées and the other wonders.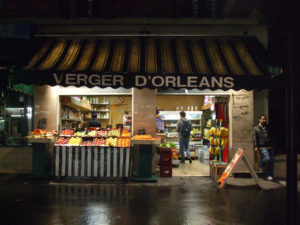 Paris is astonishing, not just in the kinds of buildings it has, but also in the scale on which the city has been planned. We got off along the Seine to take a closer look at Notre Dame, stroll around the islands and grabbed an ice cream at Berthillon's.
We'd been up since 4am, so by late afternoon we were wrecked, and took the Metro back to our hotel, which was out on the edge of town. Keeping the romance in your marriage is quite a challenge when you've got three kids, so we didn't want to spend our evenings sightseeing too – it was a pleasure just to chill, have a leisurely dinner and a glass or two (or three) of wine.
There's no end of places where you can hear about the big attractions of Paris, so I'll dwell a little on the quirky details; like buying a carnet of tickets – not a single travelpass, like in London, but a handful of small tickets you use one at a time. Or the late night green grocers (see above), of which there were several on our road alone, standing ready to supply the night-time fruit appetites of the citizens of Paris.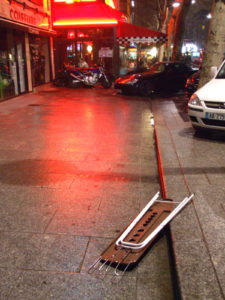 As a compulsive apple-eater, this was something I appreciated. My kind of people, the French.
Maedhbh visited the Musee d'Orsay after leaving me in the book fair on Saturday, and we had pizza and pasta for dinner that evening – not traditional French fair, but Maedhbh is a vegetarian, and we had to look at the menus of a few restaurants to remind ourselves that the French don't really do vegetarianism. In the restaurant attached to our hotel (which had a colourful, but uncompromising motorsport theme), we were told that they could do Maedhbh a salad, or they could give her one of the meat dishes, without the meat. But they'd still charge her the same price. We thanked them and left. On the way back to our hotel after our Italian in Paris (stopping for some fruit on the way), we passed an ironing board lying on the street.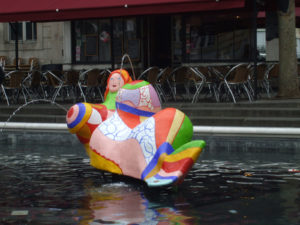 It had obviously been out on the town, and had had a few too many before trying to walk home.
If you're travelling to Paris in the near future, I'd suggest you leave your ironing boards at home, there's clearly a bad element among their type in the city.
On the Sunday, we had the morning to wander round town, although it was too much of a trip to have to go back to hotel before heading to the airport, so we had to haul our cabin luggage around with us – because of terrorist threats, the train stations apparently don't do left luggage any more. We strolled around the Centre Georges Pompidou, taking in the fantastic, bizarre Stravinsky Fountain, with its collection of outlandish sculptures, including a voluptuous mermaid with sprinkling breasts.
Heading back towards the river, we passed more little quirks, including a tricked-out tricycle and a small market selling various breeds of caged birds.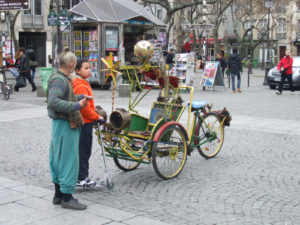 The queue for Sainte Chapelle was just too long for us, though we had to go through the airport-style security to find that out, because it's in the Palais de Justice compound. We didn't want to take the chance of missing our flight, so we decided to check out the Latin Quarter, and have a look at the famous bookshop, Shakespeare and Co, which was close to the train station on our way out.
Except we couldn't find the bloody place. It's supposed to be on rue de la Bûcherie, but we walked the length of this small, short street and there was no sign of it. We asked directions off two different people, both of whom directed us to the end of the street, where we merely confirmed it wasn't. We went to a cafe to take a break, almost out of time, but happy enough with our wandering, even if we were disappointed with missing this one sight we were sure we'd get into. I mean, this shop was world famous – how could nobody know where it was?
It was on our walk back to the station, that we discovered why we couldn't find it.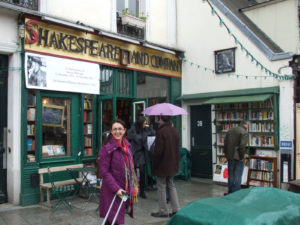 There was a tiny park across the main street that butted up against rue de la Bûcherie . . . and on the other side of the park, were the last few dozen yards of the street – along with our missing bookshop (this part wasn't labelled on our street-map and it wasn't how the shop was marked on the tourist map). We had time to take a picture, glance inside, and then we were heading for the train to the airport.
It might sound like a frustrating tour of Paris, given that we didn't go inside much, but there was still so much to see, and we had a great time just walking around, talking, taking photos, and spending some quality time together. We'd been to Rome a few years ago (another short stay), and spent our few days there cramming in as many sights as we could, and it was brilliant, but exhausting. This was very different, but made us desperate to come back for more (maybe with the kids . . . maybe not). I can say with some confidence, that Paris hasn't seen the last of us.