Maedhbh and I were in Paris for the weekend, for the massive French book fair, the Salon du Livre. I'd been invited over because 'Voraces' (the French edition of 'Ancient Appetites') has been short-listed for les Mordus du Polar which, loosely translated, means 'Mad about Mystery'. The winner will be announced on the 7th of April, but in the meantime, I'd been asked to speak on a panel of writers at the book fair.
Maedhbh and I hadn't been away together on our own overnight since our youngest was born, so we decided to make a proper weekend of it, arriving on Friday morning, and coming back Sunday afternoon.
I'll cover the work bit in this post, and do a separate one for the touristy bit:
After a day of wandering round Paris on Friday, Saturday was to be a very different affair. We left the hotel after breakfast and took a tram to the exhibition centre, which was enormous. The Salon du Livre only took up one pavilion, but must still have been the size of a couple of football fields.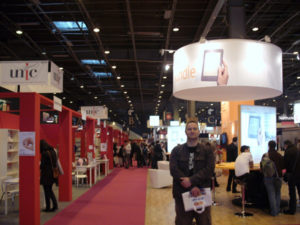 Very little was in English, of course, so there we were surrounded by stands covered in the most amazing looking books, and couldn't read much at all (both of us muddling through with our secondary school French), but it was still incredible to experience. Unlike some book fairs, this one was at least as much for the public as it was for the trade, so there were crowds of people of all ages milling around, checking out the stands.
We met Sarah, Sylvaine, Helene, and some of the folks at the Mango Jeunesse stand (my publishers) and made our way to where I'd be taking part in a panel interview with the other authors who were up for the award: Élise Fontenaille, Marie-Aude Murail and Anne & Marie Rambach, two sisters who wrote their book together.
It was a good panel, with over a hundred and fifty people in the audience – many of them kids – and a lot of onlookers passing by and stopping to listen at the back. I was the only one who needed a translator, so the person who actually did the most talking was a woman named Sheila Pratschke, Director of the Irish Cultural Centre in Paris, who basically had to repeat what everybody said. Thanks again for that, Sheila.
It was interesting to note that, once you pin writers down about their processes, the essentials don't change from language to language.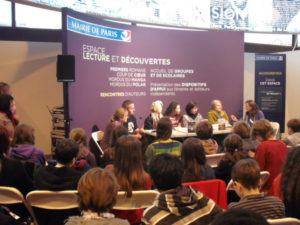 Each of us had our own very different way of going about writing, but the elements that first grabbed us about creating stories when we were young, and the need to convey thoughts accurately from your own head into somebody else's were familiar to all five of us.
The panel went on for just over an hour and a half, with a lot of questions from the kids, as well as the inteviewer, and then we signed a few books before moving on. For the rest of the day, with just a break for lunch, I sat at the Mango stand, meeting people and signing more books. My French wasn't up to making small talk, so I spent a lot of time doing drawings which we handed out when people bought books, with one of the gang from Mango translating for me if somebody came up and wanted to chat.
One other piece of good news came up while I was there that day – I found out I'd made the long-list (one of ten titles) for the Grand Prix de l'Imaginaire 2012 for the Wildenstern Saga as a series. It's in the 'Young Foreign Novel' category.  'Voraces' was short-listed for this award last year, but didn't get it. The ten titles will be whittled down to five, before the winner is announced next year. The competition is pretty tough, with 'The Hunger Games' and Scott Westerfeld's 'Leviathan' series on the same list. I've already posted something on 'The Hunger Games', and I'm on the second book of Westerfeld's trilogy, and think it's brilliant.
The cover of 'Feroces', the French edition of 'The Wisdom of Dead Men' – designed by Aurelien Police – is also up for an award in the cover design category. I can't take any credit for that, but I'm happy to bask in its association. Vive la France!